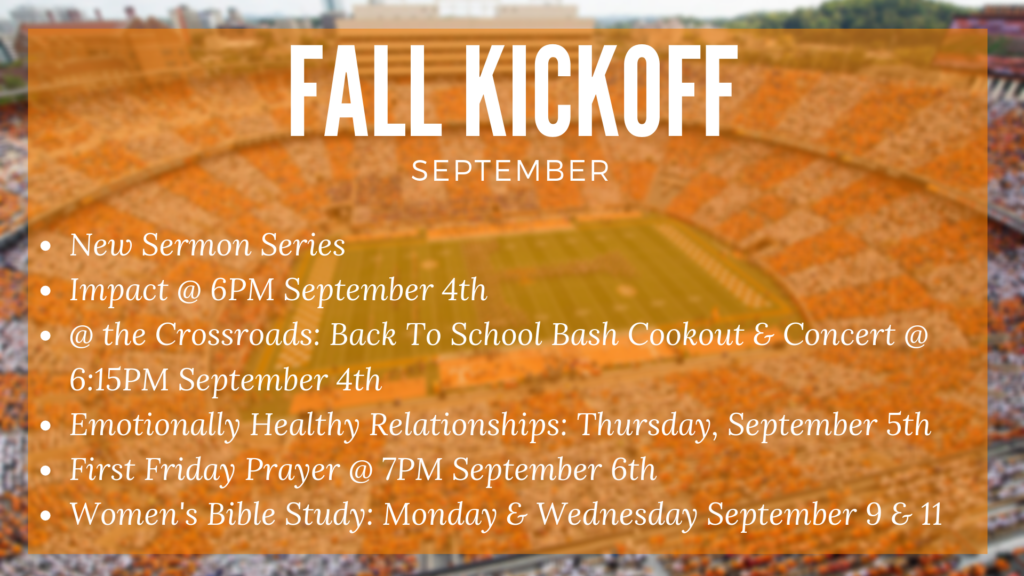 Fall is a great time to get connected at Crossroads! Starting the week of September 2nd, we have great new things happening!

Impact is back on September 4th with a new time! K-5th graders will meet at 6 pm! Contact doug@crossroadsarl.org with any questions!

@ the Crossroads, our 6th-12th graders will have a Back to School Bash Cookout & Concert at 6:15, you won't want to miss that! Reach out to travis@crossroadsarl.org for more details.

Beth Marshall will be leading "Emotionally Healthy Relationships", an 8-week group course that will begin on September 5th.

Our First Friday Prayer meeting is at 7 pm on September 6th, join us as we pray for our church!

The Women's fall Bible Study Lifegroup will be offered on Mondays and Wednesdays beginning September 9th & 11th. This will be an 11-week group, finishing the week before Thanksgiving. A sign-up sheet will be available at church soon! Contact women@crossroadsarl.org for more information.

There's a place for you in one of our Lifegroups! Contact tyler@crossroadsarl.org to find out which one is right for you!